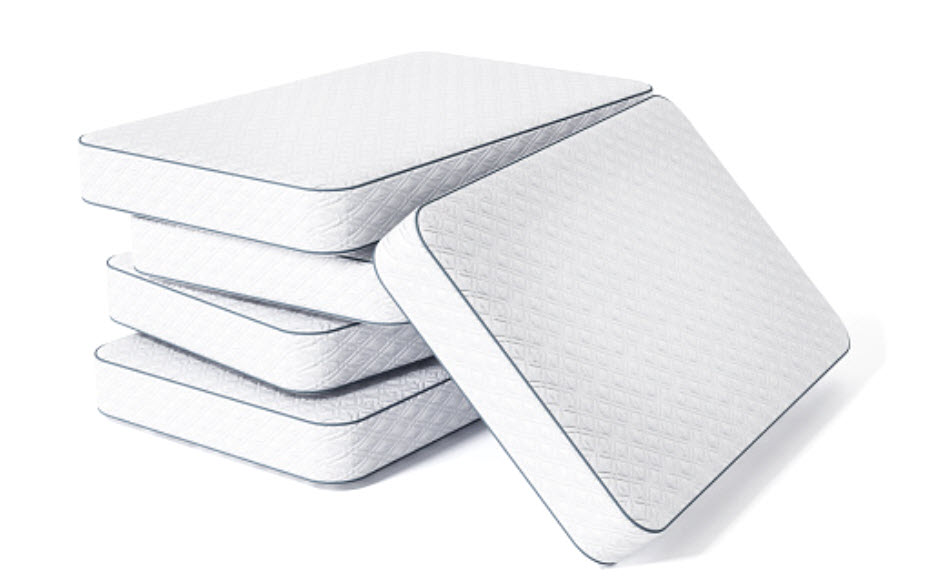 Posted on
Top 5 Handmade Mattress that You Need to Get Your Hands-On
The option of handmade mattress UK has been proving to be very popular especially pocket sprung mattresses UK. There are over thousands of mattresses sold in the UK but research show figures should be a lot higher compared to the entire population of the United Kingdom. If you're not getting a good night sleep it is time to consider what you sleeping on.
There can be a number of reasons you might be suffering from poor sleep, some reasons might make perfect sense, if you're a new mum for instance you're probably getting less sleep than usual however if you're waking with aches and pains and feel generally not rested it could mean that your mattress needs to be changed, the average age of a mattress has been said to be 7 to 8 years however it should be replaced when you notice wear and tear (If you are suffering from sleepless nights not related to your bed or mattress, please contact your GP for further advice).
According to the sleep council. 40%. Of adults and children suffer with sleep issues, there are 20% of road deaths related to fatigue.
And around $40.2b billion cost to UK economy caused by sleep deprivation.
You'd want to be sure you have the right gear with you if you were about to spend the next 8 hours of your life scaling mountains or hiking across the county.
You are at risk of hurting your muscles or injuring yourself if you don't use it.
Isn't that correct?
We don't think about the technology we need for a good night's sleep because we spend 8 hours a night sleeping. This is ludicrous, given that we sleep for one-third of our lives.
That indicates that on average, four months of the year are spent sleeping. If you live to reach 90 years old, you will have slept for roughly 30 years.
30 whole years.
Think about what would happen if you ran for 30 years without the proper footwear.
When we don't think about the mattresses we sleep on, we do exactly that. 92% of people admit that a comfortable mattress is important to a good night's sleep. But few of us use the one we need at night, instead opting for cheaper or older alternatives that could do us more harm than good.
When choosing a mattress, it's important to consider a number of factors. Your weight, your sleep position (back sleeper, side sleeper), whether you sleep on your own, if you suffer from back pain, do you get hot at night?
What criteria should I use to determine which mattress is best for me?
Unfortunately, determining which mattress type is best for you is not easy.
There are tests you can perform (like the one above) to have a better sense of what type of mattress you have, but the only way to know for sure is to test it yourself.
It's all about personal preference and what feels most comfy to you when deciding whether you need a soft or hard mattress.
It's normally advisable to go someplace in the center if you have a lot of back or muscle pain. Soft mattresses allow you to sink, which prevents you from getting the support you require.
Firm mattresses, on the other hand, can place too much strain on your head, shoulders, and lower back, exacerbating the pain. There are also various fillings which are included in mattresses, such as pocket sprung, latex, memory foam, orthopedic (firm), natural wool, cashmere.
The core of your mattress is where the real investment is made, its where you get all your support from and how effectively a mattress keeps your spine aligned and relieves pressure. If the support core is incorrect for your weight and sleeping preferences, it can lead to a restless night's sleep and an achy morning!
Your support core needs to work in unison. If you're a lighter person you won't be putting a lot of pressure on it and, as such, the sinkage is not going to be substantial. If your support core is overly firm, you may feel as if you are floating on top of the mattresses, causing several pressure spots. Your mattress should normally contour your body, which is quite vital.
Taking into consideration you budget requirements and sleeping preferences we would recommend a handmade mattress UK. Pocket spring mattresses UK reduce body strain as compared to conventional mattresses, as they adhere to the shape of the body, this is due to each individual spring being housed in a separate cotton pocket. The natural posture of the spine is preserved, and body weight is equally distributed. The mattress's different support zones guarantee that all key body parts receive adequate support, with a special focus on the spine and lower lumbar area.
Elite Beds Company offers a variety of mattresses in a variety of fillings and firmness levels. The top 5 handcrafted mattresses are as follows:
1) Cloud Splendour 3500 Best Seller
This incredible mattress provides the most sumptuous luxury. The maximum support is provided by 3500 individually wrapped pocket springs, Cloud Lite Foam technology, and layers of Geltex foam. A top surface of elevated foam combined with cooling gel effectively diffuses excessive body heat while simultaneously providing exceptional comfort.
2) Sicily 2000 Pocket Sprung Mattress
This mattress is very luxurious, packed full of natural fiber fillings and built around a supportive 2000 Pocket Spring unit the mattress is 34cm thick and is combined with multi-layers of traditional filling for medium comfort support. This mattress is quite popular and provides quality products at affordable prices. On top of the Sicily mattress is a deep pad with plush stuffing. To guarantee an equal and uniform feel, this coating is placed by hand. These filings are extremely pleasant and act in tandem with the springs beneath them. These natural fillings will enable air to easily circulate through the mattress, keeping it cool and pleasant.
3) Cirrus – Dura Beds Cirrus 2000 Luxury Mattress
The Dura Beds Cirrus 2000 Luxury Mattress is a lovely mattress that is well-made and really comfy, but the mattress's biggest selling feature is its affordability. Such a beautiful mattress is rarely seen at such a low price. From the minute you go to bed until the moment you get up, this 2000 Pocket Sprung mattress is full of fiber fillings and feels great.
The Dura Beds Cirrus mattress is based around a 2000 Pocket Spring unit. Each spring is enclosed in a fabric 'pocket,' which keeps all 2000 springs separated from one another to prevent interference when an adjacent spring is compressed. As a result, you can count on outstanding and precise service at all times.
4) Dura Beds Panache Orthopaedic Sprung Cushioned Top Mattress
If you prefer a firmer feel this is the mattress for you Taken from Dura Beds Backcare Collection and boasts a high-loft cushion top mattress with a depth of 33cm a knitted stretch cloth cover that is nice to the touch
Its sensitive contents and high antibacterial and dust mite protection make it a perfect sleeping surface for allergies and asthma patients. The mattress is 29cm thick with a 12.5 gauge orthopaedic coil spring unit that is supported by a steel rod edge structure for strength and longevity. Deep layers of classic upholstery are topped with a medium to firm comfort to offer a refreshing and restful sleep.
An attached cushioned pillow top with delicate micro-quilting offers an extra layer of comfort, allowing the sleeper to enjoy sublime levels of luxury.
5) Silver Active 2800 Pocket Sprung Mattress
The Dura Beds Silver Active 2800 Mattress is a luxurious mattress with high-end craftsmanship and a firm but comfy feel. This mattress is part of the Natural Collection, a line of high-quality mattresses with natural materials and fillings at an affordable price.
The Silver Active 2800 mattress is a Pillow Top mattress with a thick layer of deep fillings, including Wool and Cotton on the surface. Although the Pillow Top layer appears to be removable, it is not. This layer's aim is to allow a thick pad of fillings to be semi-detached from the springs at the mattress's base, enabling the fillings to remain softer and gentler than usual.
The core layer is made up of 2000 springs, which are more supporting and firm than the 800 springs on top, which are gentler, thinner, and do more 'fine-tuning' of the support provided. These two layers work together to create a mattress that is both supportive and comfortable. Each spring in this mattress can move up and down like a piston to adjust to your body's movement, precisely mimicking your shapes and encouraging proper posture while also reducing aches and pains.
Silver Active fabric features a micro-stitched texture for additional comfort, a replicated stitched border for additional strength and a longer life span, flag stitched handles for easy turning. Lastly, the air vents play a vital role in allowing air ventilation through the mattress
When deciding what mattress to purchase, purchasing a handmade mattresses UK is a no-brainer, when searching for the best pocket sprung mattress UK you will be given the top 5 above choices. It is very important to be able to understand the various mattress fillings and make an informed decision to ensure you purchase the correct mattress to suit your lifestyle.